Release the potential of the new generation of MAZDA3. The Fastback and Sedan. Regardless of grade and engine displacement, AutoExe has so many different lineups can be offered.
---
BP-06
Release the potential of the new generation of MAZDA
This class of MAZDA3 draws attention in the dramatic styling filled with powerful vitality beyond practicality, which tends to be prioritized. "BP-06", a new tuning kit, is ready for the coming new generation of Mazda. The goal of BP-06 is to give a kick to more dynamic running, which innovative styling deserves. Based on the philosophy and the technologies of "Sensible Tuning" that AutoExe has been advocating for many years, the margin of settings for everyone, which is unavoidable for mass production vehicles, has been carefully reduced. All other energies are focused on enhancements to a sharp sports driving experience.
A simple front grille which represents our identity, and front and rear under spoilers which are focused on wider and lower views, are features of our style. Such features as a roof spoiler, which stands out from a rear view, forms an individuality, expressing an exquisitely-chiseled sense of power. Substantial body reinforcement parts, suspensions with a sharpened transient response to rolling, intake/exhaust systems that give you a sensation of improved engine response, and the pursuit of complete tuning, continue to satisfy a variety of performance levels.
Styling Kit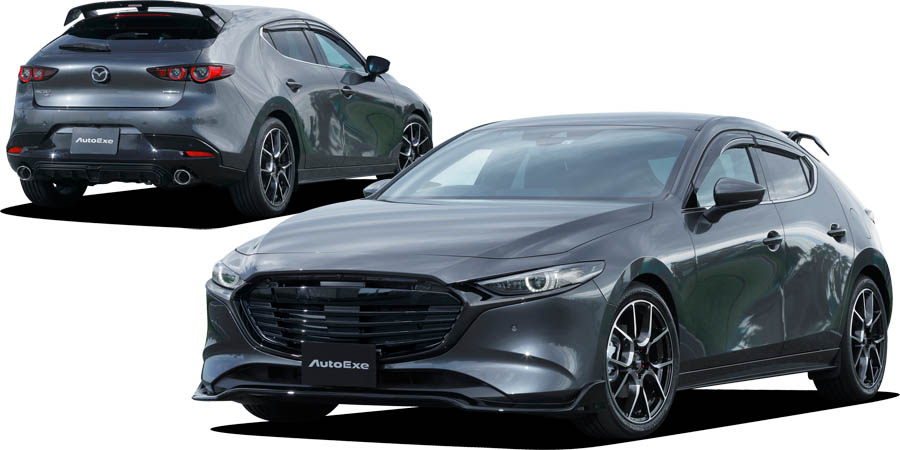 ---
---
■BP-06 Styling Kit for MAZDA3(BP)

Description
Model
Part Number
Price
Specification
Code
Front Under Spoiler
Fastback
MBP2100-08
¥82,000
Fiberglass,Painted(Piano Black)
D
Front Grille
Fastback
MBP2500
¥78,000
ABS,Painted(Piano Black/Mat Black)
D
Rear Under Panel
Fastback
MBP2400
¥42,000
AES,Unnecessary paint
D
Rear Roof Spoiler
Fastback

Fastback
MBP2600-08

MBP2600
¥78,000

¥58,000
Fiberglass,Painted(Piano Black)

Fiberglass,unpainted
D
Functional Parts
▶Suspension Parts
"A New Driving Sensation" – Suspension is the core of full running sports sensation.Our aim is handling at will, beyond the boundaries of mass-produced vehicles. For drivers who want to actively enjoy driving, not only the matter of simply stiff or soft feeling, but to be provided the best street driving specification which has refined the dynamic sensitivity performance such as the initial responsiveness at the time of steering and the transient characteristic of rolling.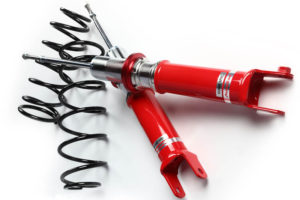 Description
Model
Part Number
Price
Specification
Code
Strut Tower Bar
Front
All
MBP4000
¥24,000
Steel 1-piece 2-point
D
Center Floor Bar
2WD

4WD
MBP4D00

MBP4D10
¥28,000
Steel 1-piece 4-point
D
Floor Cross Bar
Rear
All
MBP4500
¥16,000
Steel 2-piece 3-point
D
Lower Arm Bar
Front
All
MBP4B00
¥16,000
Steel 1-piece 2-point
D
Torsion Beam Stiffener
All
MBP4F00
¥14,000
Steel 2-piece 2-point
D
Member Brace Set
All
MBP4700
¥58,000
Steel 3-piece Front and Rear set
D
Mortion Control Beam
All
MBP4900
¥86,000
Friction type damper Front and Rear set
E
---
▶Intake & Exhaust Parts
For intake / exhaust tuning which has a direct impact on comfortable driving, improvement of peak power has no significance, but the reaction to instantly transmit the driver's intention to the car.  Accelerator response is improved based on the air filter and the muffler with moderately reduced resistance. A discreet sports sound deepens communication between the driver and the car.