ER-03
Passion,CX-7.The Sports Car for drivers not satisfied with "sports imitation" cars.
The Mazda CX-7 advocated "crossover sports". Though the styling and specs definitely symbolized a sports car for a new era, the large dimension and weight of an SUV were heavily restrictions in the thorough devotion to smooth maneuverability.
The question was, just how far could the CX-7 emulate the concept of a pure sports car while keeping its status and sense of presence as a premium SUV? And the answer was the newcomer ER-03.
With features such as a suspension that supplies the flat ride maneuvering feel of a sports car, a brace kit that maximizes the tautness of the chassis, a ram-air intake and sports intercooler that provide vivid acceleration response,, this is muscular tuning for the SUV class that holds its own as a pure sports car.
This is the kind of coolness that is meant by the pleasure of adulthood.
Styling Kit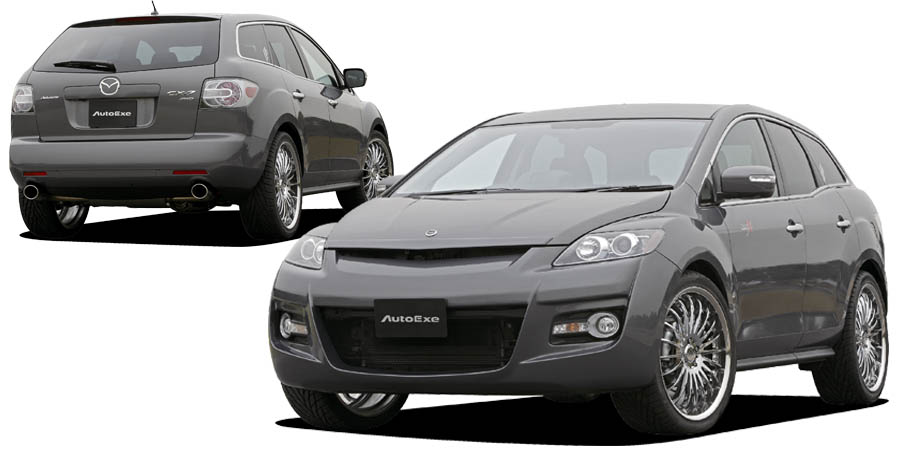 ---
■ER-03 Styling Kit for CX-7(ER3P)
Description
Model
Part Number
Price
(Tax excluded)
Specification
Code
Front Nose
ER3P-~199999
MER2000
¥68,000
Fiberglass,unpainted
D
Functional Parts
Description
Model
Part Number
Price
(Tax excluded)
Specification
Code
Adjustable Stabilizer Link
Front

Rear
All

All
MSE7605

MLY7655
¥20,000

¥20,000
Overall length adjustable Right and left set
D

D
Strut Tower Bar
Front
All
MLY400B
¥24,000
Steel 1-piece 2-point
D
Air Filter Replacement
All
MLY9A00
¥6,500
Dry type Replacement
D
Sports Induction Box
All
MLY957
¥24,000
Fiberglass filter frame+Aluminum air guide
D
Sports Induction Box
with Filter
All
MLY957X
¥31,000
Fiberglass filter frame+Aluminum air guide+K&N air filter
D
Ram Air Intake System
All
MLY959
¥82,000
Exclucive Wet type air filter+Carbon intake box
E
Premium Tail Muffler
All
MER8Y00

Discontinued

Stainless steel Main pipeφ60.5 Tipφ110x95 Ovalx2
D
Street Sports Brake Pad
Front

Rear
All
MLY5A10

MLY5A20
¥15,000

¥13,000
Asbestos-free
D

D
Street Brake Rotor
Front

Rear
All
MLY5A50

MLY5A55
¥39,000

¥38,000
With cleaning slit,Replacement type
D

D
Wheel Nut Set
All
A00100B
¥12,800
Chrome-vanadium steel +Aluminum end cap
D
Helical Short Antenna
All
A1460
¥3,800
L=80mm Screw pitch:M5 with Mount color
E
Shift Knob
(Leather/Ball shape)
Red stitch
A/T
A1342-03
¥9,000
Genuine leather Screw pitch:M8X1.25
D
Shift Knob
(Leather)
Red stitch

Black stitch
A/T

A/T
A1397-03

A1397-08
¥8,800



Discontinued

Genuine leather Screw pitch:M8X1.25
D

D